3 Best Affordable E-mail Marketing Tools For Beginners As Well As Pro
Importance of E-mail Marketing and E-mail Marketing
Tools
As we can see there are lots of strategies to reach your clients to promote your products or services.
email marketing is a very easy and effective way to climb milestones in your business
Email marketing is the oldest form of online marketing, and it's only gotten bigger as the use of email increases. No matter how many new types of marketing come into being, from video to social media, none ever replaces email marketing as a way to market products and generate visitors.
You can also use the technique of offering your subscribers a bribe. Everyone likes to receive gifts or something for nothing. By delivering free bribes or gifts to your subscribers, you can boost your subscription rate and grow your list. This idea can be profitable for you by using it in two separate groups.
It can be used as a way to bring you fresh subscribers, but it can also be used to get your current subscribers to work on your behalf to bring you more traffic. This is how you grow your list and also make the most out of it. If you want to get more subscribers, conversions, and sales you have to apply tactics like this. Free offers also have the potential to turn viral if enough people forward the message and bring you more traffic.
Focus on your stats and on what they say. Of email marketing services give you the information on where your current campaign will carry you and what your stats are. You must be sure to monitor all activity from your clicks and opens to unsubscribes. When you're just getting starting with your campaign, try out different types of formats and place your link in different areas to see how your subscribers respond back. Compare the outcome and see how it is possible for improvement.
If you're not marketing via email, then you really should give it a try.
Now I'm going to tell you the following Best & Affordable E-mail Marketing Tools For Beginners As Well As Pro
Getresponse has been in business since 1998 and, according to the company, over 350,000 individuals and businesses now use the platform for their email campaigns.
Getresponse is one of the more interesting products of its kind, in that it provides email marketing, landing pages, e-commerce, sales funnels, and webinars all under one roof. There are a couple of improvements that could be made to its interface — particularly where landing pages are concerned — but overall, the product is good value for money, and packed with strong online marketing features.
Pricing
AWeber is a market leader of small business email marketing software. Founded in 1998, AWeber has over 20 years of proven success helping more than one million customers around the world reliably connect with their prospects and customers through powerfully-simple email marketing software. Along with its award-winning 24/7 US-based customer support, AWeber delivers the ability to quickly build responsive landing pages, load and manage contacts, send amazing emails, send instant push notifications, and analyze results without having to be a tech whiz. AWeber works with more than 1,000 partner software solutions, allowing customers to seamlessly integrate with the apps and services they rely on to operate and grow. A privately-held company, AWeber is headquartered in Chalfont, PA.
AWeber features
Main features of AWeber are:
Email Newsletters
Subscriber Segmenting
Email Marketing Analytics
Email Deliverability
Email Analytics
Permission Email Marketing
Sign Up Forms
AWeber Mobile App
Blog Newsletters
Subscriber Management
App Showcase
Business Email Marketing
Autoresponders
HTML Email Templates
Best Email Marketing
Drag and Drop Editor
Bulk Email Marketing
Email Marketing Campaigns
Direct Email Marketing
Pricing 
AWeber pricing is available in the following plans:
2,501 TO 5,000 SUBSCRIBERS
5,001 TO 10,000 SUBSCRIBERS
10,001 TO 25,000 SUBSCRIBERS
AWeber Free: Email marketing for free. No credit card required.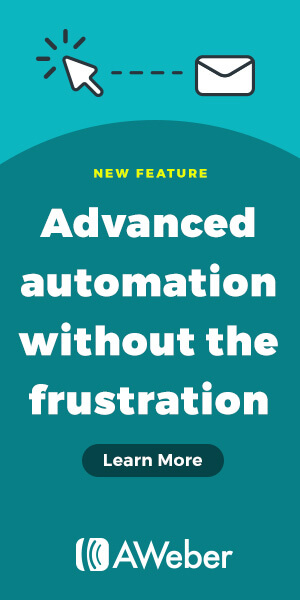 Woodpecker helps B2B companies directly contact prospective clients by automated sending of personalized sales emails and follow-ups.and best for B2B IT companies, mainly from the US and Europe, including service providers (marketing and lead gen agencies, software houses), digital product providers (SaaS).
PRICING
Start-up
Basic features
for smaller teams
per seat/month
Automated sending
Contact unlimited people per month
Any IMAP integration
Gmail integration
Outlook integration
Email throttling & human-like sending
Reply, click & open tracking
Advanced personalization
Timezone setup
Replies in your inbox
Sending in prospect's timezone
Follow-up automation
Automated follow-ups in thread
Intelligent reply detection and follow-up pausing
Autoreply detection
Fwd email detection
Bounce detection
Schedule each follow-up individually
Reschedule follow-ups after autoreply
Engagement-based follow-ups
Prospects base
Duplicate detection
Unlimited imports
Built-in email validation before sending via Bouncer
Unlimited prospects
Spreadsheet look and feel
Teamwork & security
Advanced security system: don't address the same person twice
Empty custom fields detection
Team collaboration
Shared prospects' lists & campaigns
Blacklisting domains
BCC to CRM
Stats
Open, click, reply rates, interest rate
In-app inbox with reply classification
Bounce rates
Campaign progress monitoring
Team Pro
Advanced features
for bigger teams
per seat/month
Automated sending
A/B tests in campaign
Contact unlimited people per month
Any IMAP integration
Gmail integration
Outlook integration
Email throttling & human-like sending
Reply, click & open tracking
Advanced personalization
Timezone setup
Replies in your inbox
Sending in prospect's timezone
Follow-up automation
Automated follow-ups in thread
Intelligent reply detection and follow-up pausing
Autoreply detection
Fwd email detection
Bounce detection
Schedule each follow-up individually
Reschedule follow-ups after autoreply
Engagement-based follow-ups
Prospects base
Duplicate detection
Unlimited imports
Built-in email validation before sending via Bouncer
Unlimited prospects
Spreadsheet look and feel
Teamwork & security
Advanced security system: don't address the same person twice
Empty custom fields detection
Team collaboration
Shared prospects' lists & campaigns
Blacklisting domains
BCC to CRM
Stats
Open, click, reply rates, interest rate
In-app inbox with reply classification
Bounce rates
Campaign progress monitoring
Integrations
Access through API
Pipedrive
Hunter
UpLead
LeadFuze
Google Sheets
PieSync integration with 150+ apps
Zapier integration with 2000+ apps
Base via Zapier
Close.io via Zapier
Zoho via Zapier
HubSpot via Zapier
Enterprise
Custom integrations
for enterprise
Contact us for
custom pricing
Automated sending
A/B tests in campaign
Contact unlimited people per month
Any IMAP integration
Gmail integration
Outlook integration
Email throttling & human-like sending
Reply, click & open tracking
Advanced personalization
Timezone setup
Replies in your inbox
Sending in prospect's timezone
Follow-up automation
Automated follow-ups in thread
Intelligent reply detection and follow-up pausing
Autoreply detection
Fwd email detection
Bounce detection
Schedule each follow-up individually
Reschedule follow-ups after autoreply
Engagement-based follow-ups
Prospects base
Duplicate detection
Unlimited imports
Built-in email validation before sending via Bouncer
Unlimited prospects
Spreadsheet look and feel
Teamwork & security
Advanced security system: don't address the same person twice
Empty custom fields detection
Team collaboration
Shared prospects' lists & campaigns
Blacklisting domains
BCC to CRM
Stats
Open, click, reply rates, interest rate
In-app inbox with reply classification
Bounce rates
Campaign progress monitoring
Integrations
Access through API
Pipedrive
Hunter
UpLead
LeadFuze
Google Sheets
PieSync integration with 150+ apps
Zapier integration with 2000+ apps
Base via Zapier
Close.io via Zapier
Zoho via Zapier
HubSpot integration via Zapier
Custom solutions
Custom integrations
Onboarding process
Team training sessions
Tailor-made API solutions